3D LASER PRINTED
One-piece 3D printed Nickel Based Superalloy baffle/tube for superior strength
CASCADING BAFFLES
Advanced cascading baffle geometry effectively attenuates sound
NO WELDS
Contains no welds, typically the weakest points of a suppressor
STRONG & DURABLE
Nickel Based Superalloy, stainless steel & titanium construction for durability
NO CARBON LOCK*
Acme Thread Quick-Clamping System. Does not carbon lock. Patent pending
*Quick-Detach model only
NO TOOLS REQUIRED
Easy to lock & unlock suppressor. No tools required. Patent pending
A LEAP FORWARD IN SUPPRESSOR TECHNOLOGY
IT'S 3D PRINTED
The new DD WAVE sound suppressor's advanced cascading baffle geometry more effectively attenuates sound than simpler baffle styles. The DD WAVE's unique one-piece, 3D printed baffle/tube, a nickel based superalloy, eliminates the need for welds—typically the weakest points of a traditional suppressor—providing unmatched strength and durability. Our Acme Thread Quick-Clamping System won't carbon lock, and securely clamps the suppressor to a 17-4 PH stainless steel muzzle device, making it easy to remove even after extended use.
AN ENHANCED SHOOTING EXPERIENCE
LESS RECOIL. LESS SOUND.
Constructed of nickel based superalloy, stainless steel, and titanium—and then Cerakote coated—the DD WAVE 7.62 is fiercely strong yet lightweight, making it durable and reliable enough for a variety of calibers from 5.56 to .300 Win Mag.
SECURE ATTACHMENT. EVERY TIME.
ACME THREAD QUICK-CLAMPING SYSTEM
The no-tools, Acme Thread Quick-Clamping System securely mounts to a 17-4PH stainless steel muzzle device. Heavy acme threads on the muzzle device serve to disrupt carbon build-up as the suppressor is detached, allowing for easy removal even after extended use.
ROCKET SCIENCE. ALMOST.
LASER SINTERING
Chosen for its ability to generate very unique designs, the laser sintering approach to 3D printing that is used primarily to create parts for space rockets was applied to the unique, one-piece baffle design of the DD WAVE. Aside from design, the DD WAVE is constructed from nickel based superalloy, an alloy used primarily in aerospace due to its ability to retain strength even at extreme temperatures.
SPECIFICATIONS
SOUND REDUCTION
Typically Reduces a 5.56 round by 30dB & 300BLK by 40dB, depending on barrel length and environmental conditions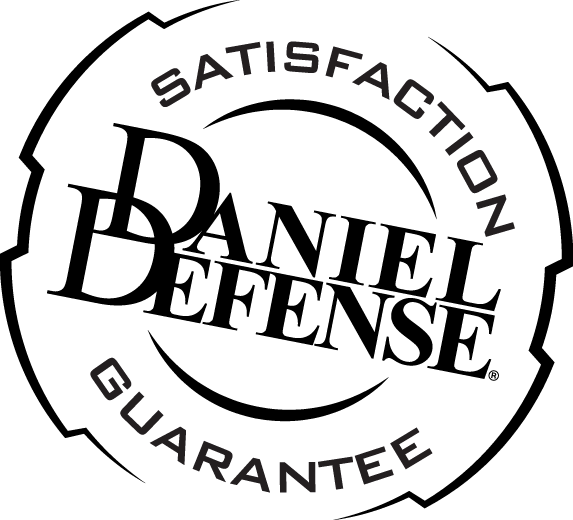 All Daniel Defense products carry a 100% satisfaction guarantee against defects in original materials and workmanship. If your Daniel Defense product shows evidence of such defects, Daniel Defense will make every accommodation to fix, repair, or replace your product in the most expeditious manner possible. Daniel Defense does not warranty products or damage caused to our products by the correct or incorrect installation of other manufacturer's products. Be sure to retain your sales slip as proof of purchase date when making a claim.